Rising Voices was released in November 2015, to coincide with Native American Heritage Month.
But we are continuously working to set up screenings all over the country! Take a look at the upcoming list of screenings and check back regularly for new tour locations.
Get in touch with us by visiting the Contact page if you would like to arrange a screening in your area!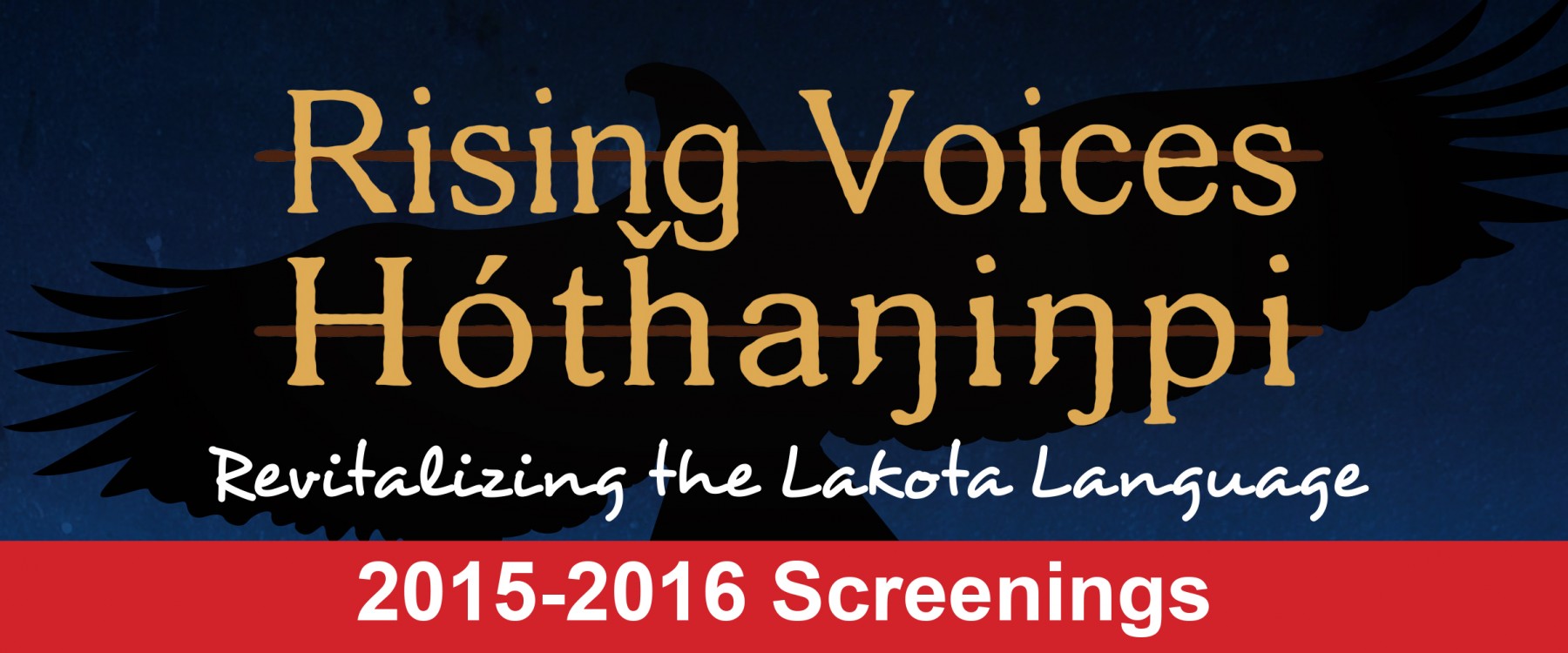 2016 Screenings
January 7 at 8:30 PM
Linguistic Society of America Annual Meeting
Washington, D.C.
January 22 at 9 PM
Flathead Lake International Cinemafest
Polson, MT
January 29 at 3 PM
IU Cinema
Bloomington, IN
February 21 at 3 PM
National Sawdust – International Mother Language Day Celebration
Brooklyn, NY
February 22 at 4 PM
University of Arizona – International Mother Language Day Celebration
Tucson, AZ
February 27
University of Texas Arlington Annual Benefit Pow Wow
Arlington, TX
March 2 at 6 PM
UCLA – Bruin Linguistics Society Screening
Los Angeles, CA
March 13 at 3 PM
Divine Savior Holy Angels High School
Milwaukee, WI
March 14 at 4:30 PM
NAFIS Spring Conference
Washington, D.C.
March 31 at TBD
University of Iowa – Native American Student Association Screening
Iowa City, IA
April 2 at 10 AM
One Nation Film Festival
Colorado Springs, CO
April 5 at 11 AM
California State University, Northridge – Linguistics Student Organization
Northridge, CA
April 12 at 6 PM
Annual Symposium on the American Indian
Tahlequah, OK
April 15 at TBD
12th Annual Indigenous and American Studies Storytellers Conference
Buffalo, NY
May 20 at 7 PM
Siouan & Caddoan Language Conference
Newkirk, OK
June 6-7 at TBD
23rd Annual Stabilizing Indigenous Languages Symposium
Billings, MT
June 29 at 7:30 PM
CoLang 2016
Fairbanks, AK
---
2015 Screenings
July 27
2015 Linguistic Summer Institute
Chicago, IL
August 29
Black Hills Unity Concert
Piedmont, SD
September 10
Elon University
Elon, NC
September 11
International Conference on Indigenous
Archives, Libraries, and Museums
Washington, D.C.
September 19
Lakota Film Festival
Martin, SD
September 24
University of Alaska Southeast Movie Night
Juneau, AK
September 26
University of Victoria – Language in the Present Workshop
Victoria, BC, Canada
October 1
Arizona State University
Tempe, AZ
October 2
South Dakota Film Festival
Aberdeen, SD
October 7 at 4:15 PM
Pomona College
Claremont, CA
October 8 at 5 PM
8th Annual Lakota Dakota Nakota Language Summit
Rapid City, SD
October 10? at?12 PM
Polyglot Conference
New York, NY
October 12?at?6 PM
2015 Meskwaki Culture & History Symposium
Tama, IA
October 15?at 6 PM
NIEA Annual Convention & Trade Show
Portland, OR
October 16?at?3:30 PM
University of Massachusetts, Amherst
Amherst, MA
October 18?at?4 PM
Academy of Music – WGBY Premiere
Northampton, MA
October 18?at?6 PM
NCAI Annual Convention & Marketplace
San Diego, CA
October 22?at?6 PM
Mitchell Museum of the American Indian
Evanston, IL
October 23?at?5:30 PM
Denver Indian Center
Denver, CO
October 28?at?6:30 PM
Mill City Museum
Minneapolis, MN
October 29?at?6 PM
University of Minnesota Twin Cities
Minneapolis, MN
October 30?at?6 PM
Minneapolis Institute of Art
Minneapolis, MN
November 2?at 9:40?and?10:45 AM
2015 South Dakota Indian Education Summit
Pierre, SD
November 5?at?6 PM
Supporting Native Voices Gala
Bloomington, IN
November 5?at 7 PM?
University of South Dakota, Al Neuharth Media Center
Vermillion, SD
November 6-14
American Indian Film Festival 40
San Francisco, CA
November 8?at?1 PM
University of Nebraska at Omaha Film Festival
Omaha, NE
November 8?at 2 PM
North Dakota Heritage Center and State Museum
Bismarck, ND
November 9?at?10 AM
Standing Rock High School
Fort Yates, ND
November 9?at?2 PM
Wakpala High School
Wakpala, SD
November 10?at?11 AM
Cheyenne-Eagle Butte School
Eagle Butte, SD
November 10?at?2 PM
Thiypaye Tpa School
La Plant, SD
November 10?at?6:30 PM
Museum of the South Dakota State Historical Society
Pierre, SD
November 11?at?7 PM
St. Joseph's Indian School
Chamberlain, SD
November 12?at?9:30 AM
Crazy Horse School
Wanblee, SD
November 12?at?2 PM
Pine Ridge School
Pine Ridge, SD
November 12?at?6 PM
Northwest Community College
Prince Rupert, BC, Canada
November 12?at?6:30 PM
Southern Illinois University Carbondale
Carbondale, IL
November 13?at?5 PM
North Middle School (Library)
Rapid City, SD
November 14?at?3:20 PM
Red Nation Film Festival
Santa Monica, CA
November 14?at 2?PM
The Journey Museum
Rapid City, SD
November 19?at?11 AM
Oakland Community College
Des Plaines, IL
November 20?at?2 PM
Oakland Community College
Des Plaines, IL
November 22-25?
18th Annual Native American Indian Film & Video Festival of the Southeast
Columbia, SC
December 2?at 6:30 PM
Jeffco Public Schools Administration/Educational Center
Golden, CO
December?17-18?at?8:30 PM
Lakota Nation Invitational
Rapid City, SD